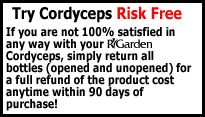 If you look forward to the day when you feel healthy, have energy, and feel young, R-Garden's Cordyceps can help you!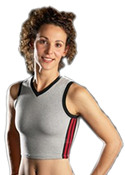 Asians use an amazing variety of herbs and natural products for healing, and to maintain good health. One of their most potent natural healers is Cordyceps.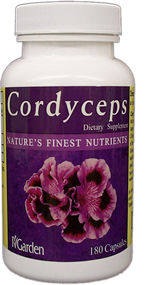 People who have used Cordyceps know that it is different from any other supplement or medicine you can take to improve your health. Only a program of doing things that improve your health is truly effective in the long run, not just trying to stop symptoms like drugs do. You need to build up your health with super nutrition like Cordyceps to slow the aging process and feel great again!

Cordyceps is a powerful life enhancing tonic and an extremely effective and unique herb able to benefit many body systems.

Studies by the Chinese government show the following benefits:

Promotes more restful sleep. Cordyceps has a calming effect on the nervous system to help reduce anxiety and nervous stress as well as make sleep more productive.

Reduces the effects of radiation treatment. Cordyceps increases the effectiveness of the spleen to help it filter out harmful substances in the blood. As well, it increases the DNA, RNA and proteins in the spleen to promote faster healing.

Lowers blood pressure and increases blood supply. Cordyceps can slow down the heart rate, increase the blood supply to the arteries and also increase the total blood volume of the heart. It relaxes the blood vessel walls so blood flow is increased to the heart and blood pressure is lowered.

Reduces asthma and respiratory problems. Cordyceps can relax the bronchial walls as well as having anti-inflammatory properties. So it is effective against coughs, phlegm, asthma and other respiratory ailments. Cordyceps also increases adrenaline production.

Rejuvenates male sex ability. Cordyceps acts as a very potent male sex hormone to bring back youthful sexual function and stamina.

Increases energy level. Cordyceps has the ability to increase ATP production in human cells thus increasing your energy level.

Amazing anti-ager. Cordyceps can prevent the formation of peroxide and lipids and prevent or decrease the formation of oxidase enzymes in the brain. This makes Cordyceps a powerful anti-aging herb.

Lowers bad cholesterol. Cordyceps helps regulate your blood sugar. This is good news if you suffer from diabetes.

Makes other nutrition work better. When you have Cordyceps working for you, the food you eat is more fully absorbed into your body. It also helps your body make more efficient use of nutrients and protein from your food, so you will have all the necessary building blocks for good health.

Improves memory. Cordyceps has also proven in clinical studies to help improve memory and mental sharpness.

Generally, Cordyceps helps restore normal functioning of various parts of the body; it helps stimulate the immune system, benefits the circulatory system and promotes energy, vitality and longevity. It develops strong anti-aging power and is a good anti-oxidant.

Recent observations have shown that Cordyceps can improve performance and muscle-building capability, even though it doesn't contain any steroidal ingredients. Cordyceps benefits the vascular system by improving circulation, helping to regulate blood pressure and strengthening the heart muscle. As a working lung tonic, Cordyceps is able to strengthen respiratory power in those who need extra energy to perform physical exercise. It's also useful for people who suffer from a deficiency of lung power.

Cordyceps also fortifies the kidney channel, which is responsible for sexual energy and desire. It has effects in improving sex drive, sexual desire and potency, physical endurance, and energy. In Chinese medicine, Cordyceps is used for treating erectile dysfunction.

Cordyceps can be used safely and over a long period of time. It has a huge amount of benefits to many body parts and this makes it rank as high as ginseng, reishi and deer antler.


R-Garden's Cordyceps is 100% natural, and taken everyday, will begin to help heal your body and give you more energy. It has been found by scientists and doctors to be safe - without side effects for most people.
Start now to benefit from all the healthy effects! We believe you will have more get-up-and-go and more control over your health. You should start to feel younger again within just a short time.

Cordyceps works wonders for those who use it! Now that Cordyceps is easy to get and low in cost, you can experience its health-giving powers. In china, a large number of studies with thousands of patients were conducted. These are just a few of the true examples of how effective it is:

Cleared up bronchitis
A 68-year-old man suffered from bronchitis for 18 years. It had gotten worse over the years and caused him to cough up a lot of thick phlegm. He also had night sweating, panting, dizziness, a heavy feeling in the body and low energy. After taking Cordyceps for only 5 days, his coughing and phlegm were reduced significantly. After 2 weeks the tight feeling in his chest and panting were gone. He could run slowly for 200 yards. His cough disappeared and his dizziness, low energy and weakness were nearly gone. After one month of taking Cordyceps, his lung function went back to normal.

Restored body to youthful state
A 36-year-old man was diagnosed with cirrhosis and chronic liver dysfunction. He suffered from extreme fatigue, rib pain, abdominal bloating, low weight, poor appetite, insomnia, low fever, sweating and emotional problems. After taking Cordyceps for 2 months, his abdominal bloating lessened considerably and he ate and slept better and had more energy. After 10 months on Cordyceps all his symptoms disappeared and he felt like a new man!

Overcame radiation treatment
A 44-year-old woman had received chemotherapy due to breast cancer surgery and her white cells and immune function were lowered considerably. After taking Cordyceps for one month, all blood chemistry went back to normal and she was able to complete treatment!

Heart improved tremendously
A 70-year-old woman suffered from a coronary heart condition for 18 years. Her EKGs showed abnormalities and she suffered from arrhythmia and angina. She tried many medications with no positive results. After being on Cordyceps for one month, all clinical symptoms disappeared and her EKG showed vast improvement. After completing one treatment cycle, her EKG was totally normal. A follow-up one year later showed no relapse.

All her symptoms disappeared
A 42-year-old woman suffered from low energy, asthma, edema and a poor heart condition. After taking Cordyceps for two weeks, most symptoms were improving and at 6 months all symptoms and conditions disappeared.

Helped stomach cancer
A middle-aged man was diagnosed with stomach cancer. The man was given Cordyceps and had taken it about a month before his scheduled cancer operation. To the doctor's amazement, the cancer cells had shrunk and the operation was postponed. Another checkup two weeks later showed that the cancer cells had disappeared altogether. The doctor then asked where he could get some Cordyceps for himself!

Got his energy back
A middle-aged male golfer in Japan had always been in excellent health his entire life. But he recently had felt a considerable decline in his energy level. This became clear when hitting drives and trying to be consistent on the 3rd or 4th round. After taking Cordyceps for a very short period of time, he was able to improve his performance considerably and surprised all his opponents.

Cordyceps Testimonials
"No More Unexplained And Prolonged Fatigue"
I am writing to thank you and let you know how much I love your Cordyceps product. I have been taking Cordyceps for a year now and I really feel better. No more unexplained and prolonged fatigue.
— Ba T., VA, age 80
"I Feel Like A Kid Again"
I've been taking Cordyceps for over three years. Since that time, I haven't been sick, not even in the winter months. I have so much energy, I feel like a kid again.
— K.Griffith, age 37
"Back At Work"
Cordyceps – this is what I use. I have been using it for a few years. I got the name from a flyer. I had had pneumonia and I was very weak. I ordered these supplements and inside of 4 weeks I was back at work. They are the best I ever heard of. Thanks a million for Cordyceps.
— H. Hodges, Age 74

If you want to have more energy, improve your health and live a higher quality of life, then Cordyceps is the proven way to do it safely with amazing results!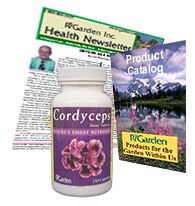 SPECIAL OFFER –
*Click here to buy your risk-free R-Garden Cordyceps and receive a free 6 month subscription to our full color health newsletter which contains vital information on cutting edge health issues, and you will receive a color catalog of R-Garden products.
Disclaimer: These testimonials do not imply that similar results will happen with your use of our products. We make no medical claims as to the benefits of any of our products to improve medical conditions.